64'er Top Spiele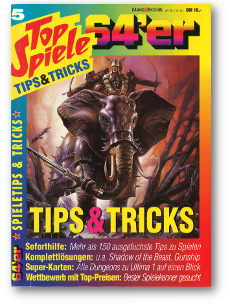 Neben dem 1984 - 1999 monatlich erschienenen 64' Magazin, gab es seinerzeit auch noch ein Angebot an Zusatzheften, z.B. zum Thema "C64 Spiele":


Aktuelle Marktübersichten
Testberichte
Tipps
Cheats
Extralevel
Longplays
Karten
POKEs
Lösungen
Spieledemos
Download:

64'er Top Spiele 1 - Marktübersicht C64 Spiele: Katakis, Oil Imperium, Iron Lord, The Bards Tale, Test Drive, ...; Longplay The Last Ninja II
64'er Top Spiele 2 - Longplays: Zak McKracken, The Bard's Tale; Tipps: F14 Tomcat, Beverly Hills Cop, Indiana Jones 3, Fighter Bomber, ...
64'er Top Spiele 3 - Longplay Turrican; Tipps zu C64 Spielen: Bruce Lee, Back to the Future, Grand Prix Circuit, Defender of the Crown, ...
64'er Top Spiele 4 - Longplays: Maniac Mansion, Gateway to the Savage Frontier; Karten: Turrican, Rings of Medusa
64'er Top Spiele 5 - Cheat-Module; Longplays: Project Firestart; Midnight Resistance; Iron Lord; Shadow of the Beast; Gunship; Enforcer...
64'er Top Spiele 6 - Rollenspiele; Karten zu Ultima 2; Tipps zu Bards Tale, Batman, Hudson Hawk, Iron Lord, Oil Imperium, ...

Mit einem Download erklären Sie sich mit der Rechtsbelehrung uneingeschränkt einverstanden.
Das Downloadangebot wird laufend ergänzt. Werbung musste aus den Zeitungen leider entfernt/ausgeblendet werden.